The contents of this website are just FANFICTION.
We are glad that you have the interest in our project. So, we try to convey our "Feelings" to the fans in the world here.
But the writer is not good at English. Therefore you may know some incongruous translations. Sorry.
Please DO NOT COPY OR MODIFY the all images and contents on this website (also including Japanese version).
We know that you know a lot about doujin culture, but it's liable to cause misunderstanding in some cases. We are unwilling for some such cases.
INTRODUCTION
This website was opened for introduce of the "Hymmnos Chronicle ~世界を最も愛した少女たちの詩~".
It's a doujin CD (fan CD) of the "Ar tonelico" series.
There are many legendary Hymmnos songs in the chronicle of Ar tonelico.
We have imagined them since 2012 summer, and then 9 tracks have crafted.
Was touwaka erra ene merra crushue anw glasden chanti tes omnis hymmne.
DETAIL
DETAILES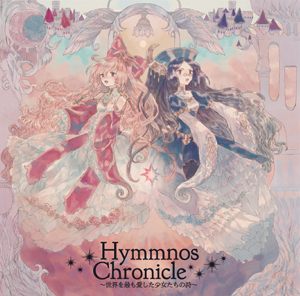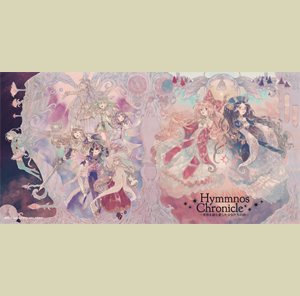 Jacket Artworks:
うやま(Uyama)
Title:

Hymmnos Chronicle ~世界を最も愛した少女たちの詩~

Circle:

stellatram
Packaging:

jewel case

Insertion:

CD (1 disc), lyrics booklet (12 pages), back card, spine card
* The lyrics booklet is written in Hymmnos and Japanese.
Distribution:

in doujinshi fair; M3-2013春 (Apr.29 2013, Tokyo), and more.

Price:

1,000 Yen (tax in)

Price Consigned:

1,250 Yen (tax in)
* This order URL links to Alice Books: doujin consignment store. Shipping the CD to overseas is available on Alice Books.
ADDITIONAL NOTES
世界を最も愛した少女たちの詩

(Sekai o mottomo aisita syoujyo-tachi no uta)

:

"The melodies of the girls who love most the world", in other words,

"hymmnos oz 9 sasye whou hartes maxim ciel"

.

stellatram

(ステラトラム: Sutera-toramu)

:

It's a coined word that combines words of Latin and Sanskrit: "Hymn of the stars".
Considering about the tracks is a job of all stellatram members, not only lyric writer or singer.
TRACK LIST
Tr1. 星謳祭 (Sei-ou-sai: Festival of the Stars) 〜Stelliarythm〜

SoundCloud

Composer:

夜皇禰 実(Minoru Yakohne)

Lyrics:

Fu

Singer:

月宮 瑠璃華(Rurika Tsukimiya), ほいみん(Hoimin), 奈雪 ニーカ(Niika Nayuki)

Tr2. EXEC_METAFALICA/. #Nenesya extracting

SoundCloud

Composer:

Minoru Yakohne

Lyrics:

Fu

Singer:

Rurika Tsukimiya

Tr3. METHOD_METAFALICA/. #Infel extracting

SoundCloud

Composer:

Hull

Lyrics:

kairi

Singer:

但野 ひと(Hito Tadano)

Tr4. EXEC_with.METHOD_METAFALICA/. 〜at A.D.3310〜

SoundCloud

Composer:

Hull, Minoru Yakohne

Lyrics:

Fu, kairi, Hull

Singer:

Rurika Tsukimiya, Hito Tadano

Tr5. METHOD_MESSELA/.

SoundCloud

Composer:

Hull

Lyrics:

kairi

Singer:

Hito Tadano

Tr6. EXEC_VISIONDANCE_SOCKET/.

SoundCloud

Composer:

aim

Lyrics:

kairi

Singer:

Hoimin

Tr7. EXEC_PAJA_FYUSION/.

SoundCloud

Composer:

aim

Lyrics:

Fu

Singer:

urushi

Tr8. EXEC_SEED/.

SoundCloud

Composer:

Minoru Yakohne

Lyrics:

kairi

Singer:

urushi

Arranger:

Minoru Yakohne, カワノ マサキ(Masaki Kawano), urushi

Guitar:

Masaki Kawano

Koto:

Hull

Tr9. EXEC_CHRONICLE=KEY/. #Lyune extracting

SoundCloud

Composer:

aim

Lyrics:

Hoimin

Singer:

Rurika Tsukimiya
*